Start your FREE Amazon Vendor Analytics Trial Today!
Simply Connect your Amazon Vendor account using your own login to start.
Try free for 14-days.
No credit card required.
Amazon Vendor Retail Analytics
beBOLD Analytics provides the fastest and most in-depth analysis of your Amazon Vendor account - ever!
Vendor Retail Analytics: The Most User-Friendly Insights for Amazon Vendors
If you are an Amazon Vendor, then you know that data is key to success. You need to be able to track your brand's performance on Amazon, as well as analyze your sales data and trends. Up until now, this has been a difficult process.
But not anymore! Vendor Retail Analytics is here, and it is the most user-friendly analytics tool for Amazon Vendors. With Vendor Retail Analytics, you can leverage the same insights used by your Amazon Vendor Manager. So what are you waiting for? Get started today!
1. Introducing beBOLD's Vendor Retail Analytics
We developed our version of Amazon's Vendor Retail Analytics after Amazon opened up their API access to its data. beBOLD's Vendor Retail Analytics is the only reporting solution on the market that gives you all of your data in one place, across all of your marketplaces. No more piecing together different reports from different sources!
What's included in beBOLD's Vendor Retail Analytics?
24-month Initial Sync back of Vendor data
48-month data retention
Vendor Overview Dashboard
Ordered Revenue: Glance views, Ordered Units, Average Price, Conversion Rate, Customer Returns, and more
Shipped Revenue: Shipped COGS, Shipped Units, Amazon Margin, Avg Price, Revenue by Product
Sourcing Share: Total Shipped COGS, Your Shipped COGS, Other Vendor Shipped COGS - all by product
Inventory Health: Sellable Inventory Trend, Sellable Inventory, Unhealthy Inventory, Aged 90+ days
- And much more!
Plus, our reports are updated every 30 minutes, so you always have the most up-to-date information.
2. How Vendor Retail Analytics can help Amazon Vendors
Amazon vendor retail analytics tools can be extremely user-friendly and save time. They offer a wide range of features, from the ability to see what products are selling well to automated reports that can help you keep track of your sales and inventory levels.
Perhaps most importantly, though, these tools can help you spot trends and make changes to your business in real-time. That means that if you notice that a particular product is selling particularly well in a certain region, you can adjust your pricing or inventory levels accordingly.
In today's competitive marketplace, being able to react quickly to changes in customer demand can be the difference between success and failure. With the help of retail analytics, Amazon vendors can stay one step ahead of the competition.
3. How to get started with Vendor Retail Analytics
We develop beBOLD Vendor Retail Analytics to be a user-friendly software that requires no programming skills and can be learned easily due to its user-friendly interface.
3 Simple Steps:
Sign up here for a 14-day free trial. You will receive an email from beBOLD Analytics
Connect your Amazon Vendor (or seller, or Walmart, or Shopify, etc) Account using your own email - NO need for adding 3rd party emails
Wait 24-48 hours for the initial data sync and then you are good to go!
The software is also very easy to use, as all you need to do is input data into the software and it will automatically generate reports. You can also use the software to save time, as it can automate tasks such as report generation and data analysis.
4. What our customer's are saying about beBOLD Vendor Analytics
As an Amazon Vendor, we have always found vendor reporting to be a point of frustration. beBOLD has transformed the speed and accuracy of our reporting and is having a huge impact on client satisfaction and team effectiveness.

The reports are much more intuitive than anything else on the market, and they provide Amazon Vendor Analytics that is essential for our business.

Switching to beBOLD Analytics was a no-brainer for us, and we haven't looked back since.
5. Examples of reports that are available to help you make better business decisions
It can be difficult to wade through all of the different Amazon Retail Analytics data points that are available when making business decisions. However, there are a number of user-friendly reports that are part of beBOLD Vendor Analytics that can help to save time and provide valuable insights.
For example, beBOLD Vendor Analytics reports can help businesses to understand how their vendors are performing and identify any areas where improvements can be made. By taking advantage of these types of reports, businesses can gain a better understanding of their customer's needs and make more informed decisions about their products and services.
See Example of Reports Below:
Start your FREE Amazon Vendor Analytics Trial Today!
Simply Connect your Amazon Vendor account using your own login to start.
Try free for 14-days.
No credit card required.
Diagnose Consumer Behavior
Build a clearer picture of your consumer's behavior on Amazon.
Utilize Amazon's traffic and conversion metrics to:
Understand product trends

Identify optimization opportunities

Inform advertising strategies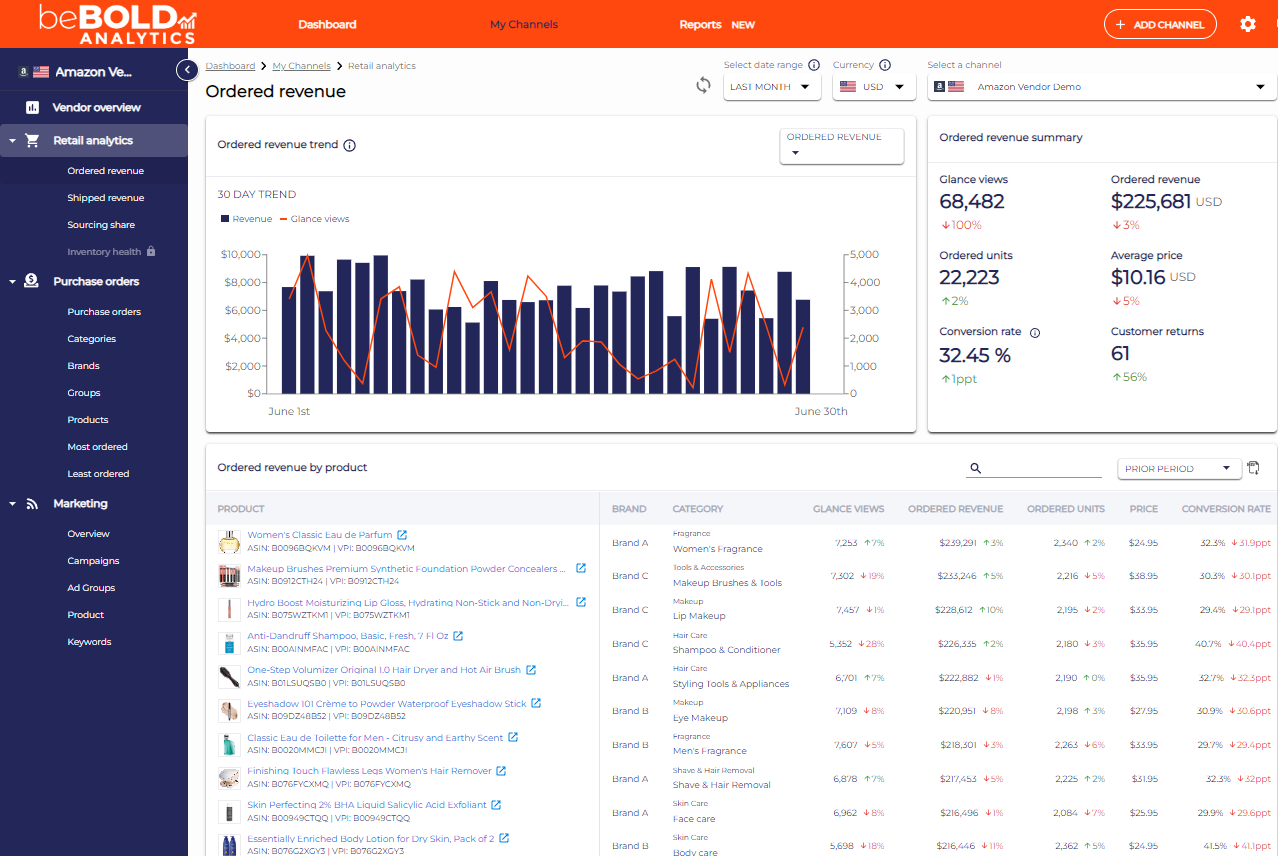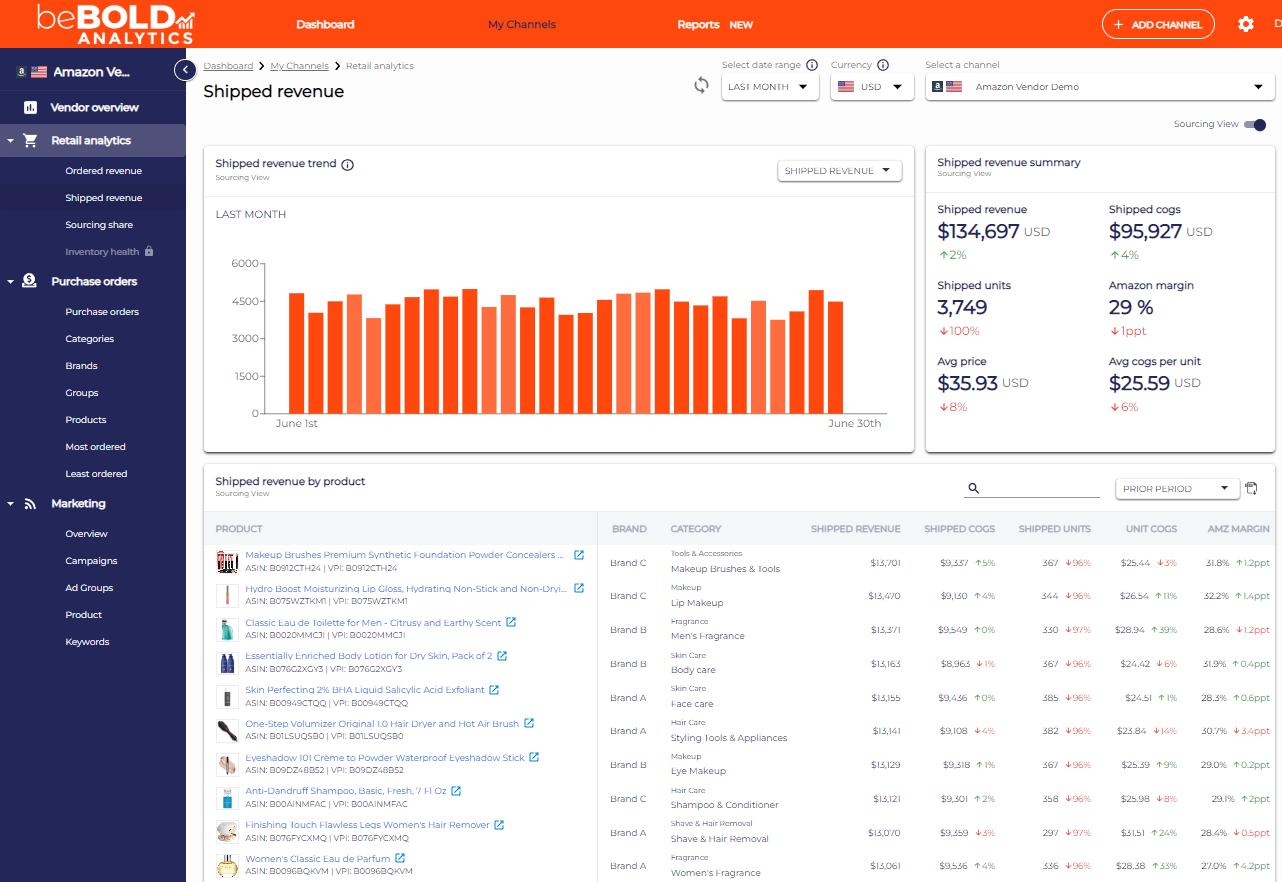 Understand Sell-Out Performance
Analyze your Shipped COGS, Units and Revenue performance for EACH ASIN.
Monitor Amazon's Profit Margin for your products and overall account.
Toggle easily between Sourcing and Manufacturing.
Sourcing Share
Discover where Amazon is sourcing inventory from a competitor.

Identify which products represent the most significant opportunity to regain lost units.

Understand unit cogs differences that are driving Amazon's sourcing decisions.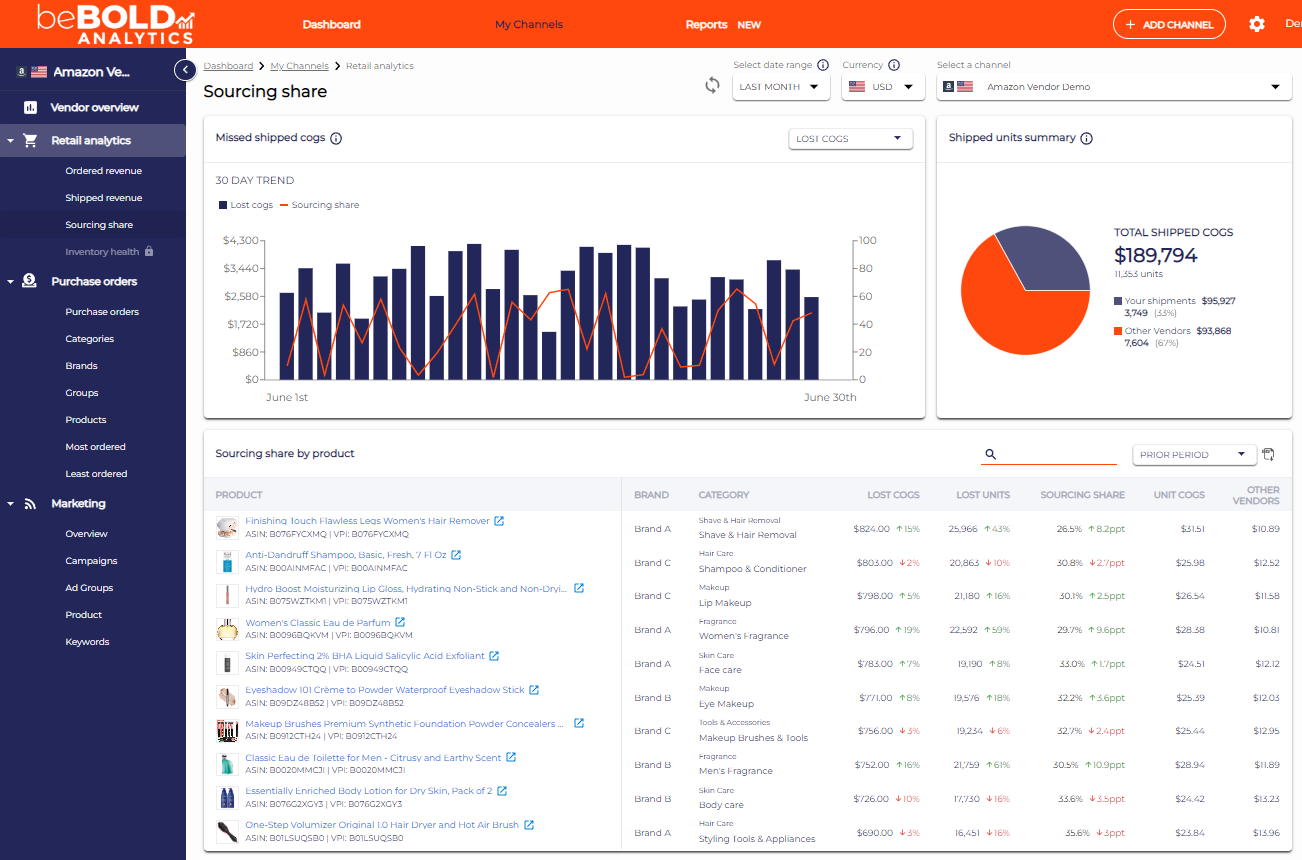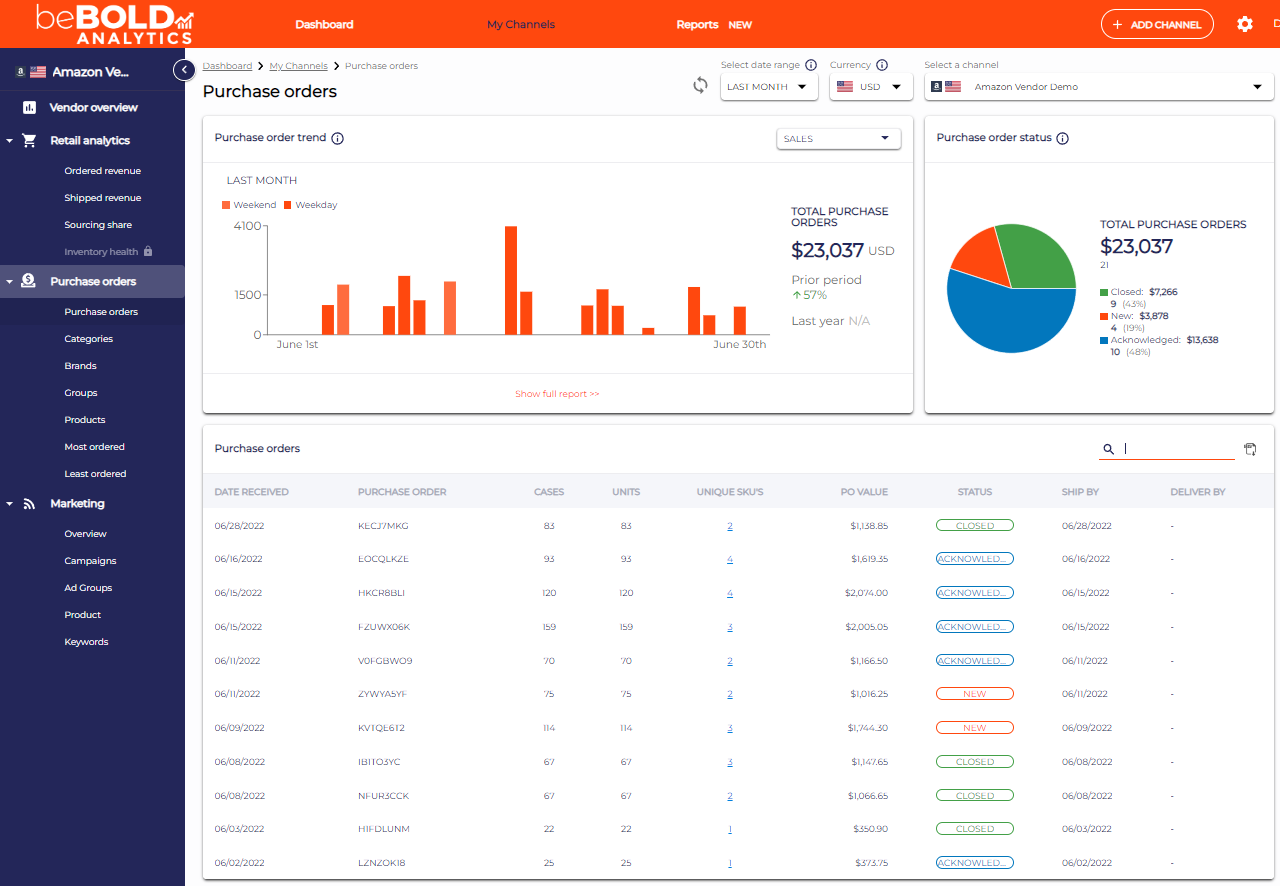 Purchase Order Insights
Understand Amazon's behavior in placing purchase orders for your vendor account.
Identify long-term trends, most and least ordered products as an ASIN, category, and brand level.
Monitor the status of your Purchase Orders and perform custom analysis to meet internal business requirements.
Amazon Vendor Advertising
Build the complete picture by linking your Vendor Advertising Account.

Access the same set of reports and insights available to seller accounts.
Drill down into campaign types, products, ASINs, and search terms.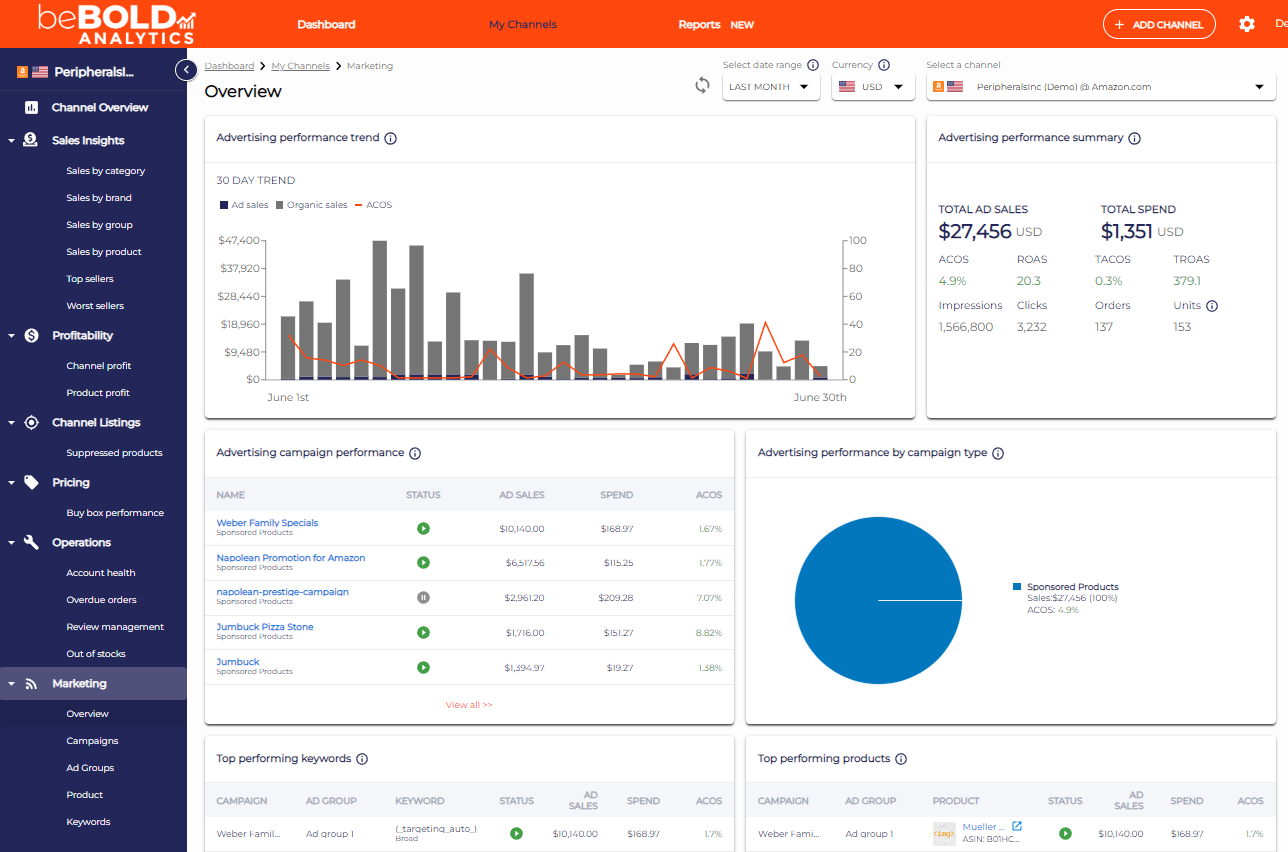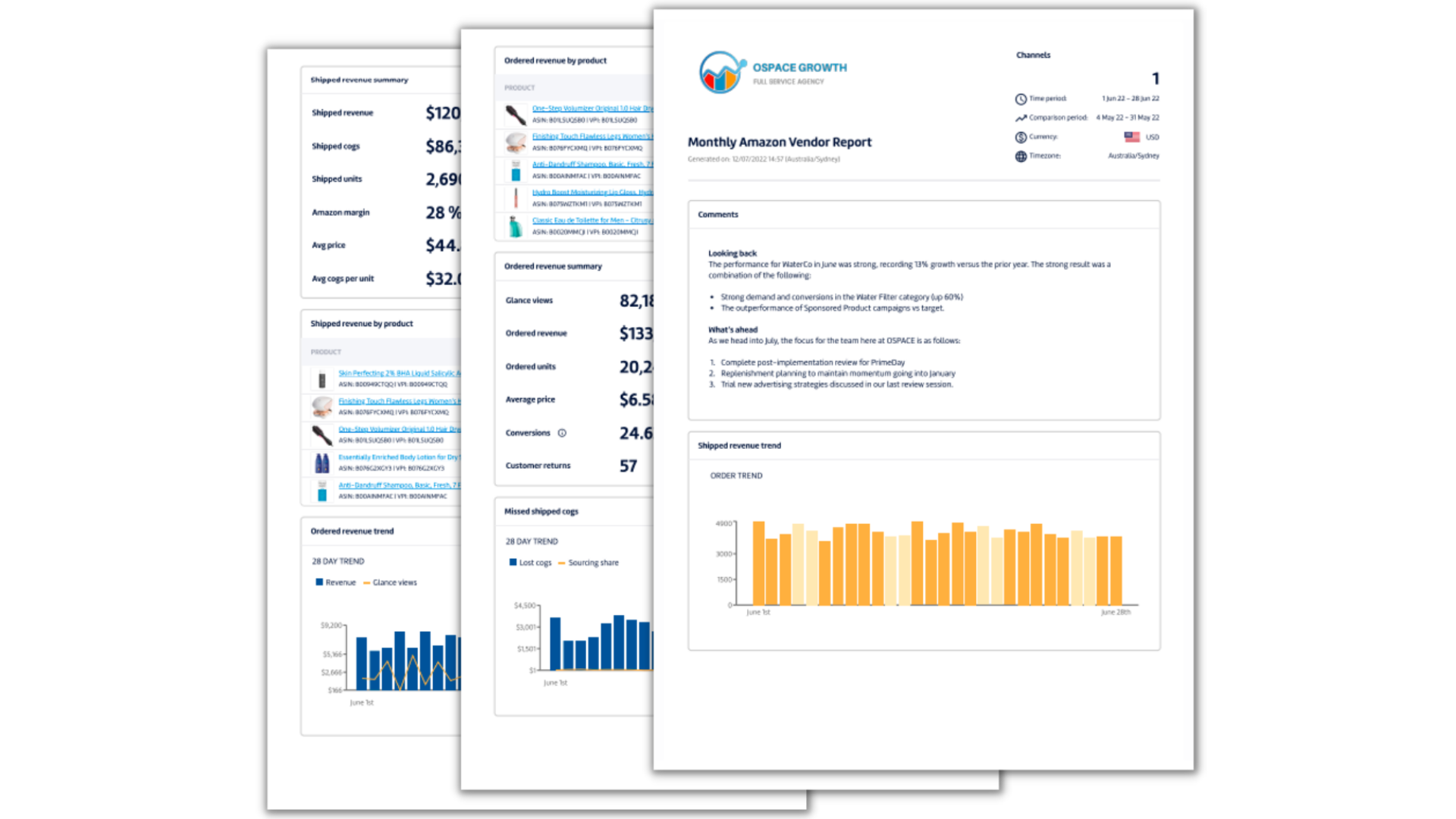 Automated Vendor Reports
Configure highly customized reports within minutes.
Include commentary and schedule reports for automatic delivery on a daily, weekly or monthly basis.
Available in dynamic HTML or PDF.
Start your FREE Amazon Vendor Analytics Trial Today!
Simply Connect your Amazon Vendor account using your own login to start.
Try free for 14-days.
No credit card required.